Rabbi Fruithandler asked me to speak for a few minutes on the issue of Zichron — Memory, which has long been an interest of mine.  Rosh Hashanah is also known as Yom HaZikaron — the Day of Remembrance, and the Zichronot is an essential part of the day's observance.
There's a certain movie that I've watched about 30 times in the past year or so, and it too has remembrance as one of its main themes.  At the very beginning of "Woman in Gold," Helen Mirren as Maria Altmann says that her object in seeking to recover the portrait of her aunt Adele is "to keep the memories alive."  "Because people forget," she warns, "especially the young."  And at the end of the film, the theme returns with an emotional scene of young Maria leaving her parents in Vienna, as her father pleads, "I ask you one thing: Remember us."  So remembrance is really at the core of the film, and it is one of the reasons that it resonated with so many people.  It's a tear-jerker, but I hadn't given Maria's farewell scene much serious thought because actually Maria's father died in the summer of 1938, shortly after the Nazis invaded, while Maria's husband was imprisoned in Dachau (something not shown in the film) and so she never had a farewell scene like that.  But then after a talk someone came up to me and said how much she had loved that particular scene, because her mother had also had to leave her parents behind.  It was only then that I realized that of course my mother's father had done the very same thing.  He had fled on the day after Kristallnacht and never saw his parents again.  That scene had played out for thousands of families, including my own.  Even in a fictional scene, the film had managed to memorialize the pain of an entire generation.
There is another scene in the film about remembrance that is based on something that did happen to me.  As a turning point in the film, they have my character go with Maria to see the Holocaust memorial in Vienna, and I have a sort of breakdown.  While working on Maria's case, I was at the unveiling of the memorial by British artist Rachel Whiteread, which is a large white mausoleum-like sculpture with walls made to look like a library of inverted books, with the spines facing inward so you cannot read the titles.  I really did not like it very much, and still don't.  For me, the 65,000 Austrian victims of the Holocaust are not a closed book, never to be opened.  They have names and stories, each and every one of them, and it upset me a bit that they were being remembered anonymously, as if no one could remember who they were.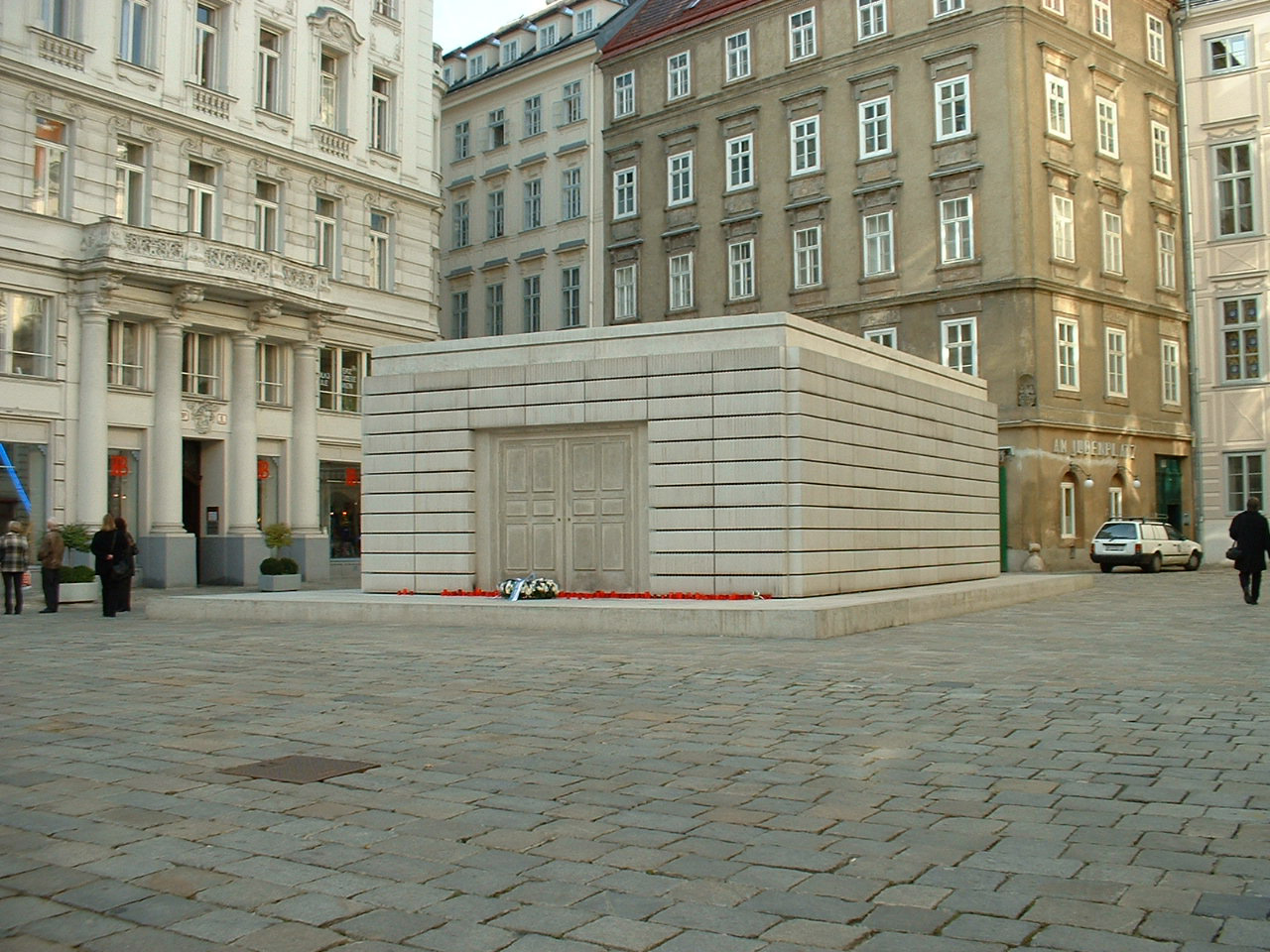 But at the unveiling there was a wonderful speech by President Thomas Klestil.  He was describing the history of the location, which is known as the Judenplatz (the Jewish Square) because it is on the location of an old synagogue that was the site of a famous three-day siege during a pogrom in 1421, after which the Jews inside committed suicide by burning down the synagogue with themselves inside.  Two hundred surviving Jews were later burned alive at the command of Duke Albrecht.  And it was on this very site, atop the ruins of the old synagogue that were found underneath the square that the new Holocaust memorial was being placed.  Then the Austrian President said "Und wie lange dauert die Geschichte."  It was more a statement than a question.  And how long does history last.  Indeed.  Here we were almost 600 years later, and we were still telling the story of those Jewish martyrs.  And what of the story of the Holocaust, which was so many times worse, I thought to myself.  What of my great-grandfather Siegmund Zeisl, who lived for 70 years in that city, only to be murdered in Treblinka.  How long will that story also be told?  It will be told forever!  And I cried at the thought of it.
Strange how we can become emotional remembering things that we did not experience.  I never met my great-grandfather, nor even his son, my own grandfather, who died of a heart attack at age 53.  I only knew his story.  But the story is somehow a part of me.  And so it is for all of us.  We remember our loved ones, and their loved ones, and the ones who came before, in a long chain back to the beginning of time.  That remembrance defines us as human beings, as a culture and as a people.  That is why Rosh Hashanah is a day of remembrance.
But the flip side of remembrance is forgetting.  It isn't only the young who forget, as Helen Mirren says, but all of us.  I could say, now that I am over 50, especially the old.  But forgetting is also important.  We say that God knows and remembers everything.  But we know that remembering everything is also a curse.  Who would want to remember everything?  When we pray for remembrance, we pray for selective remembrance, to remember the things that should be remembered and to forget what should be forgotten.  Being able to remember, and remember selectively, is a gift.  It is what makes us human.  But interestingly it is not something we can control.  Do we really have a choice what to remember and what to forget?  I don't think so.  There is something divine in remembrance.
And so, as we go through the Zichranot prayer and meditation, we will concentrate on our memories, of our loved ones, of ourselves, of people who are meaningful to us.  Some memories may make us cry, some may make us laugh.  But our memories are who we are, and for that we can all say Amen.