Today I was awarded Austrian citizenship. Last year Austria passed a new citizenship law (Section 64a Abs. 18 StbG) that allows children born between September 1, 1964 and August 31, 1983 to an Austrian mother to apply for citizenship. The deadline for application is April 30, 2014. Several years ago, my mother, who was born in New York in 1940 to parents who had fled from Austria, convinced the authorities that they should award her Austrian citizenship retroactively. I am not sure this was a normal application of the law, or if they made some exception for her. In any case, this meant that technically my mother was an Austrian citizen when I was born. Unfortunately for me, at the time of my birth, Austrian law did not allow a child to inherit citizenship from your mother.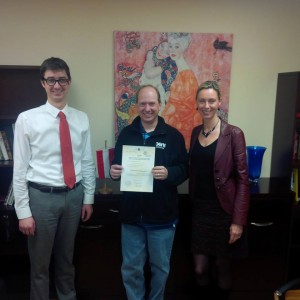 As an aside, my father's parents, also Viennese, had Czechoslovakian citizenship when they fled from Germany in 1933. Although my grandfather Arnold Schoenberg was born in Vienna in 1874, he was not able to obtain Austrian citizenship after World War I because of discriminatory anti-Semitic laws that prohibited "Eastern" Jews (from Hungary, Slovakia, Galicia, etc) from obtaining Austrian citizenship. Arnold had inherited from his father the status "zustaendig nach Pressburg" (meaning he had official residence rights only in Pressburg/Bratislava), so he automatically became a citizen of Czechoslovakia after WWI. More recent restitution laws have corrected this injustice, but not posthumously, so my father is not entitled to Austrian citizenship. So I had to rely on my mother's status.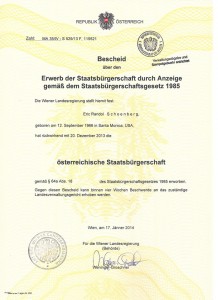 In any case, I applied under the new law, which was a bit cumbersome (FBI fingerprint reports, apostilled birth and marriage certificates, a biometric passport photo), and just today received my certificate awarding me retroactive Austrian citizenship. The good news is that I can now pass citizenship on to my children. The ones under 14 require only an application, while the older one first needs to pass a basic German test and a quiz on Austrian history. But once they are citizens, they can study and live anywhere in Europe. I figure that this might come in handy for them someday.
If anyone else is in the same boat, I urge you to contact your nearest Austrian consulate and get your application in before the April 30 deadline.