Since my previous posting about the missing Mahler photo, there have been two separate articles by Dan Wakin in the New York Times.  The first article on October 10, 2012, accurately described the facts we had developed.  Then the man who discovered the photo, Cliff Fraser, decided to speak to Dan Wakin, resulting in a second article on October 17, 2012 that only added further confusion and obfuscation.
According to his own family, Cliff is a bit of a shady character, so anything he says has to be taken with a grain of salt.  He apparently sent Dan Wakin a copy of a sworn statement signed by his grandmother, Rene Fraser, stating that she "saw her husband, Abraham Fraser, receive the Mahler photo as a gift from his teacher, the composer Josef Schmid, in Brooklyn before the family moved to California in 1958."  This appears to me to be very likely a fabrication by Cliff.  Cliff refused to send us a copy of his grandmother's statement, and even blacked out the name of the alleged notary and witnesses on the copy sent to the New York Times.  His grandmother is, conveniently, "too elderly to be interviewed," according to Cliff.  Besides the difficulty of explaining how the photo went from the Schoenberg home in Brentwood, where my aunt Nuria specifically recalls seeing it in my grandfather's study, to the Berg pupil Josef Schmid in Brooklyn, now Cliff has to explain why on earth the conductor Schmid would give this treasured Mahler autograph to his completely undistinguished pupil Abraham Fraser.  Cliff isn't helping himself by inventing a story and putting words into his elderly grandmother's mouth.
More likely is that Abraham Fraser picked up the photo from the autograph dealer in Long Beach that his son remembers him frequenting.  We're still trying to identify the name of that dealer.
Wakin's second article also misleadingly suggested that the Schoenberg family "first offered to buy the picture."  That was untrue.  At one point, my uncle Lawrence Schoenberg wrote to Cliff, "Are you considering selling the photograph?  If so, we would be interested."  That is not an "offer," but rather an inquiry, attempting to determine what Cliff's intentions were.  Cliff admits that he responded by offering to sell the photo for $350,000, "but said in the interview that that was a wildly inflated amount to scare them off."
Cliff subsequently offered the photo for $100,000 to a dealer, as you can read on Bill Ecker's blog.  Since Cliff's story is that he found the photo in his grandmother's house, one has to wonder on what authority he is offering to sell the photo.  Is he trying to steal it from his grandmother, or has she authorized him to sell it on her behalf?
As the hunt for more evidence goes on, we continue to uncover more interesting clues.  Here is a photo of Mathilde Schönberg, taken in Berlin, with the Mahler photo in the background.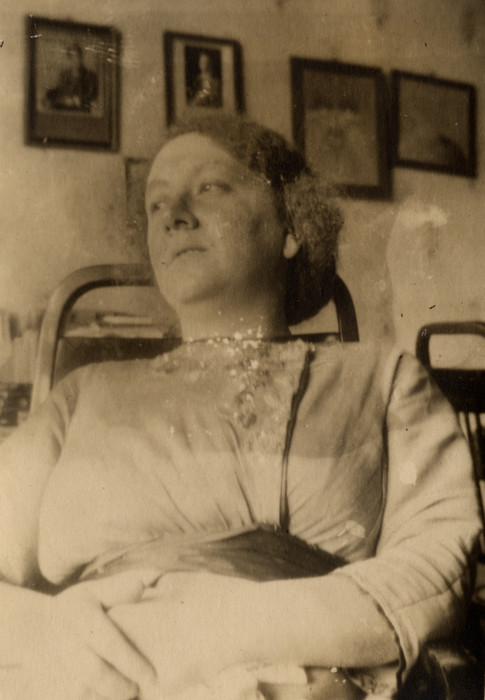 Additionally, the Alma Mahler – Arnold Schoenberg correspondence has just been published by Haide Tenner ("Ich möchte so lange leben, als if Ihnen dankbar sein kann" Residenz Verlag 2012).  The book is filled with interesting details about their 50-year (platonic!) relationship. The one constant is Schoenberg's adoration for Gustav Mahler.
To the New York Times, Cliff made some reference to the address card for Josef Schmid and the fact that it had Schmid's New York address.  The card appears to have been updated by Richard Hoffmann, a cousin of my grandmother who became my grandfather's assistant around 1948.  Not sure how this could be relevant.  Schmid had sent a number of letters and birthday greetings to Schoenberg over the years.  But there is no evidence that Schoenberg ever wrote to Schmid.  Probably he received a copy of the mimeographed 1949 letter Schoenberg sent out on his 75th birthday.