This article was published in the Jewish Journal on October 26, 2017.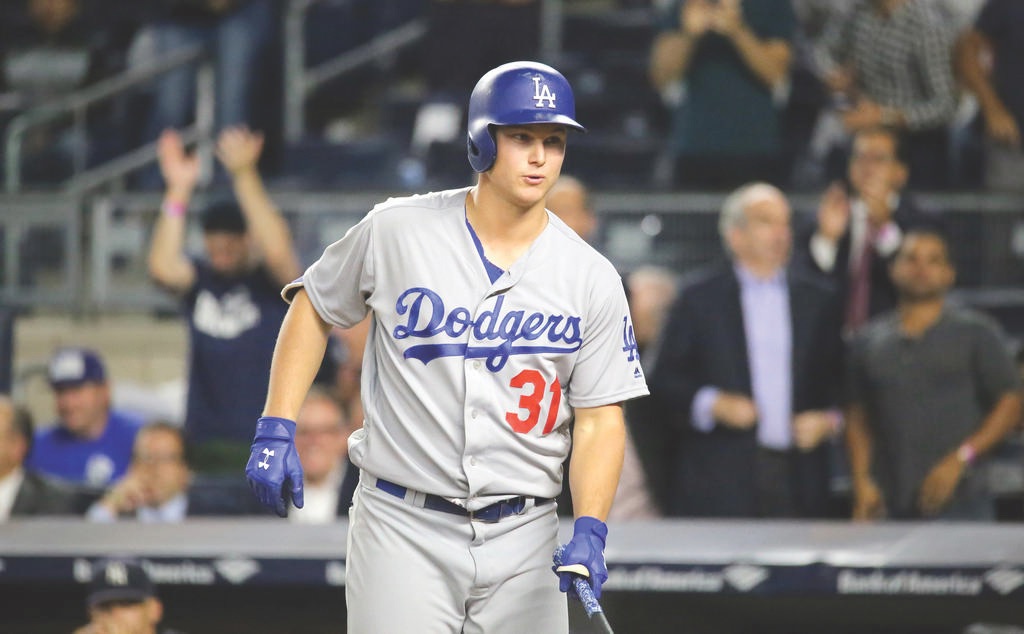 A couple years ago, after center fielder Joc Pederson spectacularly debuted with the Los Angeles Dodgers, I decided to look into his family tree.
What a tree it is. Pederson's mom, Shelly Cahn, has a remarkable Jewish background. Shelly's paternal great-grandfather, Leopold Cahn, was born March 13, 1864, in San Francisco. Leopold's grandparents came from Bouxwiller in Alsace, France, and have typical Jewish surnames from that region: Cahn, Loeb, Weyl and Bamberger. And on and on.
Some people like to do crossword puzzles. I like to do genealogy.
I got started in third grade with a family tree assignment. You know how it is when you're a kid and you find out you're good at something? I wish it had been baseball, but it turned out to be genealogy.
After consulting with my maternal grandmother and a new biography on my paternal grandfather, Austrian composer Arnold Schoenberg, I came back to school with an enormous, deep family tree, stretching back to the 1700s.
From then on, genealogy was my passion.
Amazingly, after 40-plus years, I keep finding new things. As resources become available online and get indexed, searching for new clues is just too much fun.
But in between discoveries of my own, I like to keep busy by working on other people's trees. That's how you really learn to be a genealogist.
A while back, I started a project on Geni.com, my favorite genealogy platform, to explore the family trees of famous Jews throughout history. It's called the Jewish Celebrity Birthday Project, and it lists all of the famous Jews I can find, with links to their family trees.
We've got all the Nobel Prize winners, the musicians, actors, politicians, even the baseball players. You can click on a name, and Geni's World Family Tree will tell you how you're connected to them — if not directly, then cousin to cousin to cousin.
For Jews, a connection is pretty much automatic. It turns out we're all pretty closely related.
As for Joc Pederson of the Dodgers, let's keep following his branches.
His Cahn ancestors came first to New Orleans in the 1840s. Leopold's father, Israel, was a wool merchant. He and his brothers moved on to Monterey, Calif., and ended up in San Francisco, where they were charter members of Temple Emanuel. Shelly's paternal grandmother, Zelda Sugarman, was born in 1907 in San Francisco, one year after the great earthquake, to parents who had emigrated from Russia around 1889. Her father, Michael, owned an iron and metal business.
The family of Shelly's mother, Suzanne Heyman, is even more fascinating. Suzanne's paternal grandfather, Samuel Heyman, was born Feb. 20, 1869, in New York to a family of German immigrants from Glückstadt in Schleswig-Holstein, while her grandmother, Fannie Morris, was born Oct. 4, 1873, in San Francisco. Fannie's father was from Poland, but her mother, Bessie Adler, was born in New York in 1857 to parents from Poland and Germany.
Suzanne's maternal grandfather, Charles Weil, was born Dec. 12 , 1871, in Hornersville, Mo., before his family moved to Modesto, Calif. His father was from Germany, but his mother, Fannie Parara, was born Sept. 2, 1852, in Providence, R.I. Fannie's father was Salomon Abraham Rodrigues Pereira, born Nov. 9, 1809, in Amsterdam, descended on his father's side from that city's large Sephardic community, with ancestors also named Querido, d'Aguilar, Barzilay, Quiros, Provencal, Belmonte, Tartas, Abendana and Baruch. Salomon's mother, Meintje Levie de Goede Stodel, was not Sephardic, but also descends from a large Dutch-Jewish family, as did Salomon's wife, Mietje Halberstadt.
Finally, Suzanne's maternal grandmother, Ancie Weil, was born January 20, 1878 in Shasta, Calif., to parents from Germany. Ancie's father, Joseph Anschel Weil, was born Aug. 30, 1841, in Steinsfurth and was an early pioneer in Shasta. In a book on Old Shasta, you can see an old photo of Joseph and his brother David, early vintners in the area.
Using the genealogical resources we have available online today, I could come up with this tree for Joc Pederson's maternal ancestors in a matter of hours, while watching him play a game. It turns out we're not that distantly related. The niece of Joc's great-great-great-grandmother Fannie Weil (Parara) married Joseph Stampfer, my second cousin three times removed.
Is that close enough to ask for tickets to the World Series?
---
E. Randol Schoenberg is an attorney and a law lecturer at USC.