This year marks the 100th anniversary of Schoenberg's Pierrot Lunaire, op. 21.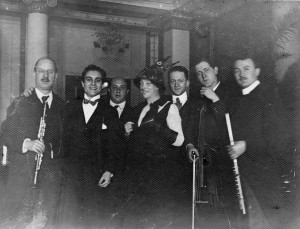 Predictably, there have been a number of performances and fine articles, such as this one by Joseph Auner in the Boston Globe.  The work was composed between March 12 and July 9, 1912 and the first performance took place on October 9, 1912 in Berlin with the actress Albertine Zehme, who inspired the piece, as the first interpreter of the role.  There are many fine websites discussing the work.  See, for example, Todd Tarantino. You can also listen to many interpretations on youtube, including this old recording conducted by the composer.
Of course, the 100-year-hoopla is already starting for Stravinsky's Rite of Spring, which was premiered in Paris on May 29, 1913.  It would be interesting to see a study of the comparative reception of these two landmark works.  One unexplored avenue, I think, is how the premiere of Stravinsky's work became known as "one of the most famous classical music riots in history."  It actually was preceded by the infamous Skandalkonzert of March 31, 1913, where Schoenberg conducted works by Webern, Zemlinsky, Schoenberg and Berg in the Great Hall of the Vienna Musikverein.  The concert was supposed to conclude with a song from Mahler's Kindertotenlieder, but the rioting during Berg's Altenberglieder ended the concert.  People actually rushed the stage to assault Schoenberg as he conducted.  Wikipedia has a page on classical music riots that does not even mention the Skandalkonzert.  The Vienna riot was reported widely, also in Paris, and must have influenced the audience reaction to Stravinsky's ballet.  But I have never seen anyone really explore that connection.